Comparison of antidepressants' effectiveness and side effects – pharmacogenetics to assist in therapy selection
Ruslan Dorfman, PhD, MBA
Reviewed by Alison Wong, RPH.
Patients suffering from depression, anxiety, post-traumatic stress disorder (PTSD) and other mental health conditions are frequently facing significant antidepressant side effects and often have a hard time finding the right dose or drug. When the medication is ineffective or the side effects become intolerable, patients have to switch to alternative medication. Analysis of drug claims data recently presented by Medavie BlueCross shows that, on average, claimants try 2.6 antidepressants before finding the correct one.  Finding the right drug and dose by trial and error increases the risk of worsening depression, disability, hospital admission and suicide.
The Canadian Network for Mood and Anxiety Treatments Clinical Guidelines (2016) for adult patients group medications based on the expected efficacy and tolerability though the choice of a specific antidepressant therapy depends on individual patient characteristics. Here below are examples of first, second and third line treatments that are recommended.
First line of treatment:
Agomelatine, bupropion, citalopram, desvenlafaxine, duloxetine, escitalopram, fluoxetine, fluvoxamine, mirtazapine, paroxetine, sertraline, venlafaxine and vortioxetine.
Second line of treatment:
Amitriptyline, clomipramine, and other tricyclic antidepressants (TCAs), levomilnacipran, quetiapine, trazodone.
Third line of treatment:
Phenelzine, tranylcypromine and reboxetine.
A recent large scale network meta-analysis published by Cipriani and colleagues in the Lancet, provides a somewhat different rating of medications. The analyses ranked 21 antidepressants for efficacy (response rate) and acceptability (treatment discontinuations due to any cause).  Acceptability of treatment is a complex outcome to evaluate as patients can discontinue treatment due to several causes including significant side effects (poor tolerability) or low perceived efficacy.  Efficacy is also linked to patients' adherence to treatment which can often be a challenge. In the meta-analysis, acomparison of the efficacy of 21 antidepressants efficacy showed that amitriptyline is one of the most effective medications.
Table: Antidepressants efficacy and acceptability comparison chart: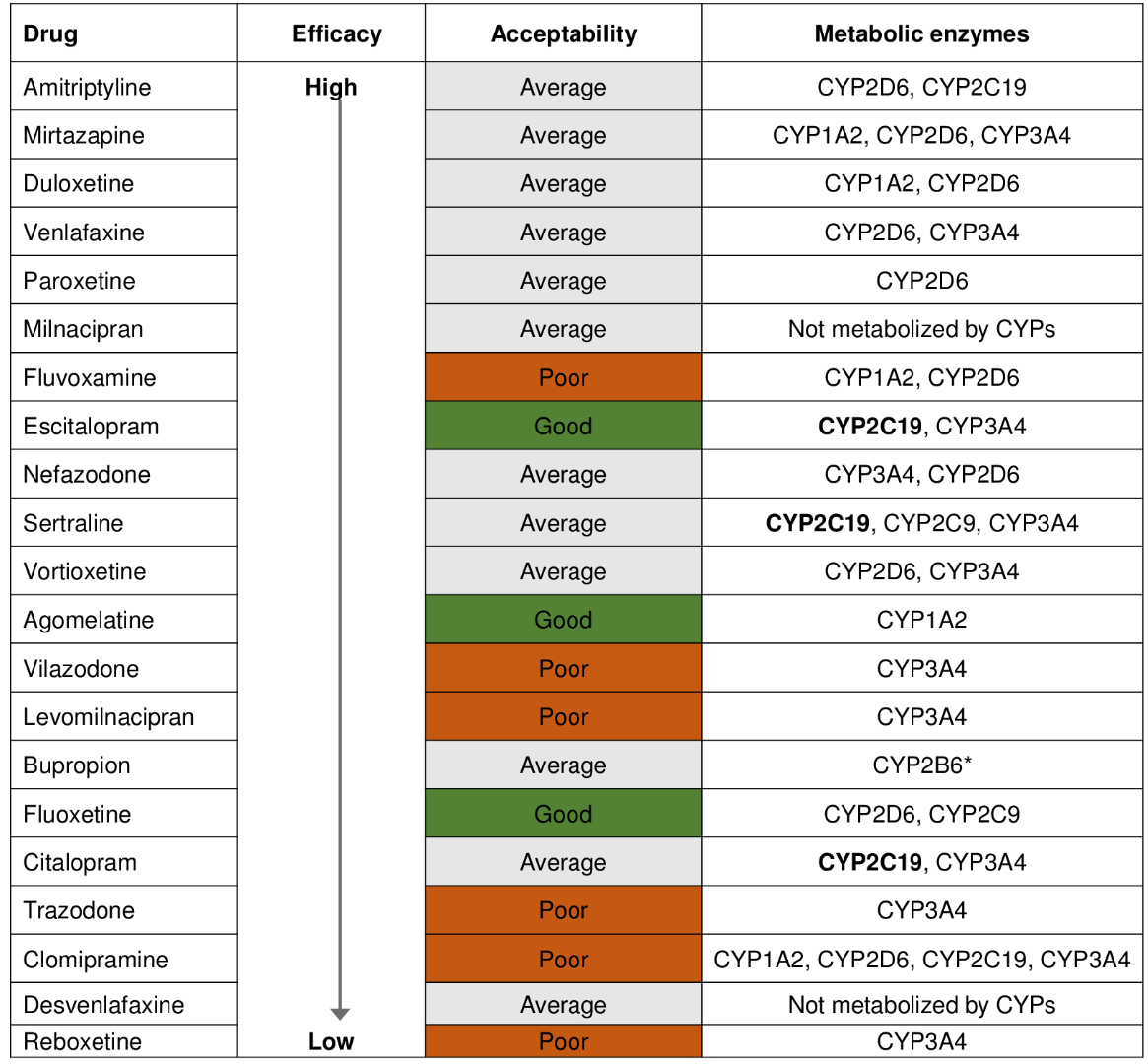 Why then is amitriptyline suggested as a second line of treatment for depression?
As shown in the meta-analysis, though amitriptyline is generally effective, its acceptability is only average.  This may be due to tolerability issues. Amitriptyline and other TCAs are metabolized by both CYP2D6 and CYP2C19 enzymes. The Clinical Pharmacogenetics Implementation Guidelines (CPIC) for TCAs recommend avoiding the use of amitriptyline and similar medications in patients who are Ultrarapid metabolisers of either CYP2C19 or CYP2D6 enzyme due to potential lack of efficacy. On the contrary, patients who are Poor metabolizers of either CYP2C19 or CYP2D6 enzyme should also avoid amitriptyline due to potential increased risk of side effects. Alternatively, a 50% dose reduction of the initial dose could be considered.
In rare cases where a patient is an ultrarapid metabolizer of one enzyme and a poor metabolizer of the other, it would be difficult to anticipate the clinical response of the patient. The clinician would have to monitor such a patient carefully.
Citalopram and escitalopram are the most commonly prescribed SSRIs because of a better tolerability profile. Both these medications are metabolized by the CYP2C19 enzyme. However, up to 25% of people in North America carry the *17 allele of the CYP2C19 leading to faster clearance of these medications. As a result, the CPIC guidelines recommend using alternative medications not metabolized by CYP2C19 for these patients such as paroxetine, fluvoxamine, vortioxetine, fluoxetine, duloxetine or venlafaxine. On the contrary, patients with significantly decreased CYP2C19 function have a much higher risk of side effects when treated at usual doses of citalopram and escitalopram. These patients may benefit from a lower starting dose of these medications or a change to an antidepressant that is not metabolized by CYP2C19.
Moving on, drugs that are metabolized by the CYP2D6 enzyme include paroxetine, fluvoxamine, vortioxetine, fluoxetine, duloxetine and venlafaxine. Similarly, patients who are ultrarapid metabolizers may have inadequate clinical response, whereas those who are poor metabolizer may have more side effects.
For patients who have a significantly altered metabolism of both CYP2D6 and CYP2C19, there are few antidepressants that are not metabolized by either of these enzymes. For example, vilazodone, levomilnacipran and trazodone are metabolized primarily by the CYP3A4 liver enzyme and may be preferred treatment options in these scenarios. Very few antidepressants such as milnacipran and desvenalfaxine are a lot less dependent on CYP liver enzymes for their elimination and could also be treatment options.
For patients suffering from antidepressant side effects or who present with treatment resistant depression or anxiety, pharmacogenetic testing can provide useful insights into a patient's drug metabolism.  Pharmacogenetic tests with a broad CYP enzyme profiling supported by medication review by expert clinical pharmacists could assist primary care physicians and psychiatrists to identify preferable treatment options for a specific patient and help reduce the number of drug trials.
Selected references:
Kennedy SH, Lam RW, McIntyre RS, Tourjman SV, Bhat V, Blier P, Hasnain M, Jollant F, Levitt AJ, MacQueen GM, McInerney SJ, McIntosh D, Milev RV, Müller DJ, Parikh SV, Pearson NL, Ravindran AV, Uher R; CANMAT Depression Work Group. Canadian Network for Mood and Anxiety Treatments (CANMAT) 2016 Clinical Guidelines for the Management of Adults with Major Depressive Disorder: Section 3. Pharmacological Treatments. Can J Psychiatry. 2016 Sep;61(9):540-60.
Cipriani A., Furukawa T.A., Salanti G., et al Comparative efficacy and acceptability of 21 antidepressant drugs for the acute treatment of adults with major depressive disorder: a systematic review and network meta-analysis. The Lancet VOLUME 391, ISSUE 10128, P1357-1366, APRIL 07, 2018
Hicks, J.K. at al. Clinical Pharmacogenetics Implementation Consortium Guideline (CPIC®) for CYP2D6 and CYP2C19 Genotypes and Dosing of Tricyclic Antidepressants: 2016 Update (December 2016)  Clin Pharmacol Ther. 2017 Jul; 102(1): 37–44
Hicks, J.K. at al., Clinical Pharmacogenetics Implementation Consortium (CPIC) Guideline for CYP2D6 and CYP2C19 Genotypes and Dosing of Selective Serotonin Reuptake Inhibitors Clin Pharmacol Ther. 2015 Aug; 98(2): 127–134.
Zhou Y., Ingelman-Sundberg M., Lauschke V.M. Worldwide Distribution of Cytochrome P450 Alleles: A Meta-analysis of Population-scale Sequencing Projects. Clin Pharmacol Ther. 2017 Oct; 102(4): 688–700.